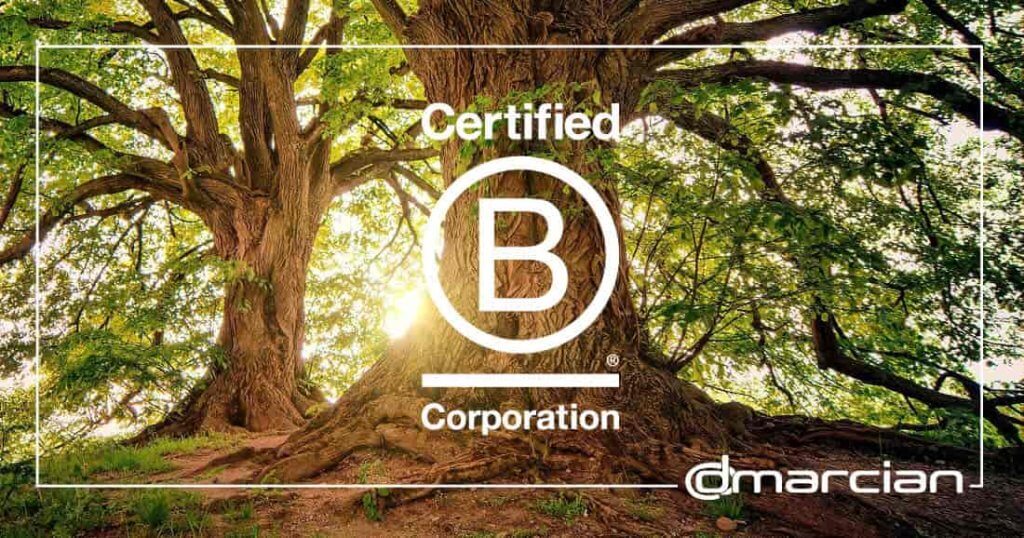 dmarcian Earns B Corporation Certification
Inside dmarcian
Press Releases
Leading the cybersecurity industry in being the best in the world and the best for the world
dmarcian is proud to announce that it has earned B Corporation® certification from B Lab®, a nonprofit organization that serves a global movement of people using business as a force for good.
It's one thing to be part of a successful company, but when we use that success for the greater good—to connect to each other, to the community around us, and to the larger environment—it elevates that success beyond bettering ourselves and turns it into lasting change for a better world.

Shannon Draegen, dmarcian Chief Executive Officer
The "B" stands for "Benefit," and the B Corp certification is to sustainable business what Fair Trade certification is to coffee or USDA Organic certification is to produce. To become certified, dmarcian proved that the company meets the following stringent performance requirements outlined in the B Impact Assessment:
Environmental performance
How dmarcian treats its employees
The impact dmarcian has on customers and the broader community
dmarcian's accountability, governance and transparency practices
Unlike traditional corporations, Certified B Corporations® are legally required to consider the impact of their decisions on their stakeholders—employees, suppliers, community, customers and the environment.
dmarcian's B Corp certification reflects the values and operating principles upon which it was founded in 2012; those tenets continue to guide the company's strategic decisions and long-term plans. Dedicated to education, thought leadership and leading-edge technology, dmarcian strives to make email a safer communication channel for everyone in the world.
About dmarcian
Founded in 2012 by Tim Draegen, primary author of the Domain-based Message Authentication, Reporting and Conformance (DMARC) specification, dmarcian is dedicated to upgrading the world's email by making DMARC accessible to all. With global operations and staff in five countries, dmarcian integrates thousands of senders, vendors and operators in a common effort to build DMARC into the email ecosystem.
About B Corporations®
Certified B Corporations® are leaders of a global movement of people using business as a force for good. They meet the highest standards of overall social and environmental performance, transparency and accountability and aspire to use the power of business to solve social and environmental problems. There are more than 2,000 Certified B Corporations® in over 130 industries and 50 countries with one unifying goal – to redefine success in business.
Want to continue the conversation? Head over to the dmarcian Forum