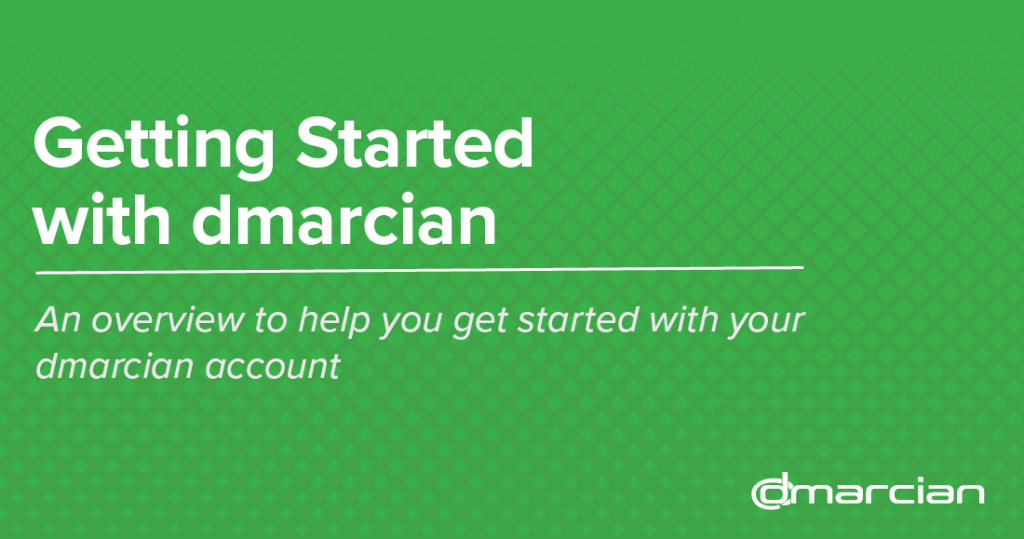 Getting started with dmarcian
Deployment
dmarcian Platform
Inside dmarcian
Technical Guidance
We've created this overview to help you get started with your dmarcian account.
dmarcian's platform automates the collection and processing of DMARC XML reporting data to help ensure you are sending email according to best practices. DMARC data is used to monitor potential spoofing of your domains as well as authentication configuration issues with SPF and DKIM. dmarcian interprets the XML files generated from your DMARC record, located in your Domain Name System (DNS) settings, in an easy-to-use format so you can manage your email ecosystem.
Our platform collects and processes DMARC data in real time, allowing you to visualize your email delivery stream as well as monitor the use of your domains. Utilizing DMARC technology helps you to ensure the email you send is authentic which prevents the possibility of phishing and spoofing attempts made from your domains.
The process begins with discovering the sources that send email on your behalf by publishing a DMARC record.
Publishing a DMARC Record
The best way to take advantage of our platform is to point your DMARC records to your dmarcian account. This allows your DMARC reports to flow directly into your dmarcian account—giving you the ability to observe trends and be alerted when new threats arise. If you already have XML reports for your domain(s), you can upload them to your account as needed.
We have tools available to generate your DMARC record; if you have already published one, you can verify that it is properly formatted. If you haven't published one yet, here are some instructions on how to do that.
Because DMARC data is generated on a 24-hour cycle, after a few days, enough data is gathered to begin generating meaningful reports. If you don't see data after more than 48 hours of publishing your DMARC record, here is some advice.
DMARC is built upon DKIM and SPF, so if you haven't deployed either of those yet, we have tools to help.
Learn more:
dmarcian's DMARC Management Platform
Once information is flowing into your account, you'll see a visual representation of how your domains are being used across the internet. You can visit the Domain Overview to assess the state of your domains. From there you can view the state of DMARC, SPF, DKIM and determine the volume of your domains.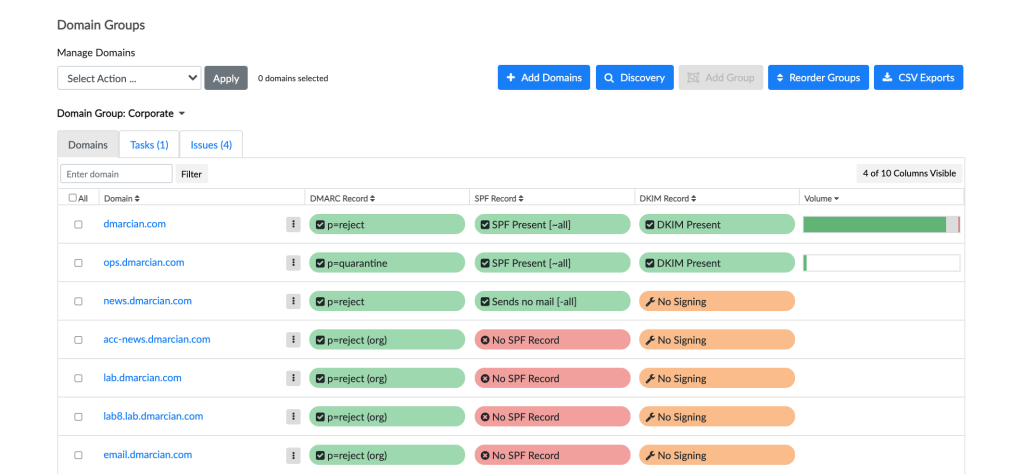 Our Source Viewer provides best-in-class visibility of the email sources that are using your email domain. Before you can protect your email domains with DMARC, all sources of your email need to be configured and aligned to send DMARC-compliant email. Our Source Viewer provides insights into where your email is originating and their level of compliance. Clicking on the SPF and DKIM percentages of each source reveals details on how to configure that source into compliance with DMARC.

The Detail Viewer, also linked from the DMARC Manager navigation tab, allows you to explore your DMARC data in a variety of ways with specified granularity. The top half of the page shows a timeline of your data along with search parameters such as date selectors, domain and data-provider pickers, and a filter that will reveal different outcomes based on potential DMARC policies.

The bottom half of the Detail Viewer, shown below, shows your data grouped into four high-level tabs: DMARC-capable, Non-compliant, Forwarding, and Threat/Unknown (you can find details on how we categorize this data here). Each tab shows groups of infrastructure and details on DMARC compliance, which can be expanded to reveal details on each message flow. This data discloses how email streams that are using your domains are being perceived by email receivers.

This is only the start. Our platform is feature-rich, and the best way to experience it is firsthand.
Learn more:
DMARC Everywhere
We're mission-driven to spread awareness and adoption of DMARC, and the main way we do that is through education. We have an extensive knowledge base about DMARC and related topics, tools that help you deploy and maintain DMARC, an active forum community, and a support team that includes veterans of the email industry and the people who actually invented the technologies.
If you find that you need to outsource this project, we offer Deployment Services that are project-based initiatives that help you achieve your DMARC objectives and milestones. We've successfully deployed DMARC for every organization that has used our Deployment services. We also have an option for Dedicated Support if you need help managing DMARC-related incidents, editorializing data reviews, or just embedding DMARC into your organization's daily operations.
What Happens at the End of the Trial?
At the end of your 14-day test run, you'll receive an email with instructions for continuing your DMARC project on our DMARC Management Platform. To continue your DMARC implementation and management project with dmarcian, you can subscribe via our self-serve portal by choosing your subscription level and billing frequency (monthly or annual) on the Billing & Usages page in your account. You can then enter your customer and billing details and your account will be automatically activated. You won't be able to select a subscription that falls below your current level of active domains or email volume use.
If you have questions, require the use of a PO, or need further assistance in activating your account, you can email analysts@dmarcian.com, and our support team will assist you.
Note: Only annual subscriptions are available through direct manual invoices at this time.
We're Here to Help
With a team of email security experts and a mission of making email and the internet more trustworthy through domain security, dmarcian is here to help assess an organization's domain catalog and implement and manage DMARC for the long haul.