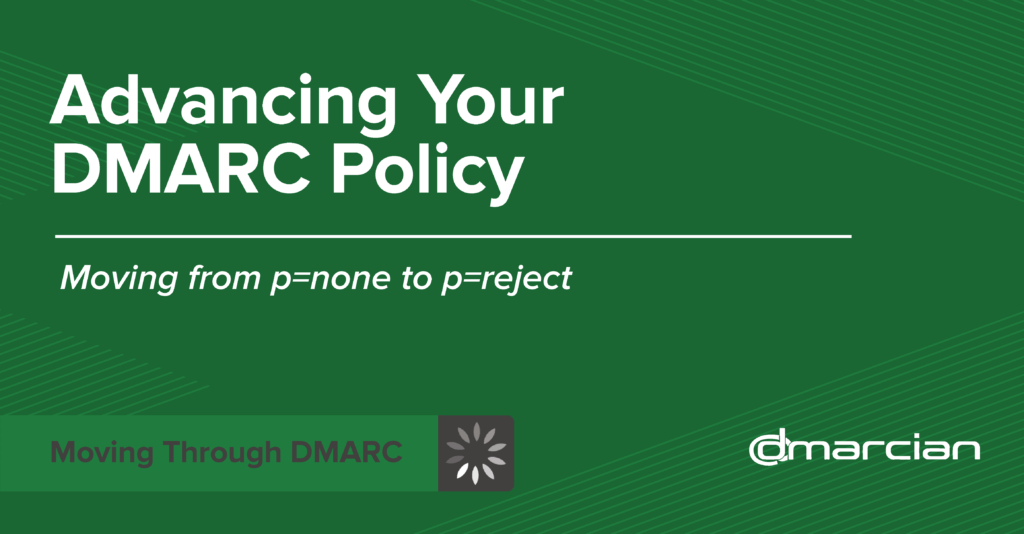 Best Practices: Advancing Your DMARC policy
Deployment
Technical Guidance
Though there can be a wide variation of size, complexity and stage of a DMARC project, they all share a common challenge of understanding when it's appropriate to advance your policy. This guide will touch on key considerations, milestone validation tips, and DNS syntax guidelines necessary to help you confidently progress your domains to a stringent DMARC policy of p=reject.
DMARC Policies
First, a brief overview of DMARC policies; the sequence in which they are traditionally applied; and how they vary in protections against phishing, spoofing and unauthorized use of your domains: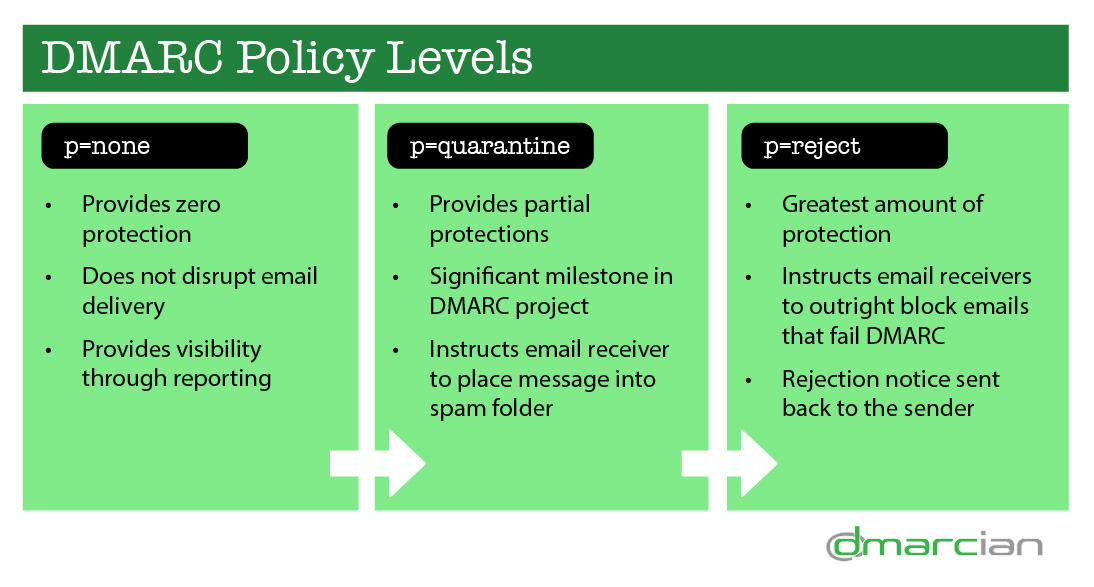 Preparing for DMARC Policy Progression
Before you begin advancing DMARC policies, here are a few key considerations:
The Role of DMARC's Percentage Tag
While the pct tag is optional in a DMARC record, by gradually increasing the percentage, you can discover necessary actions and address them before establishing a 100% p=quarantine or p=reject DMARC policy. You'll see our recommendations for pct tags in the section below.
If you don't include the pct tag in a DMARC record, 100% is the default value; tag values range from 1% to 100%. Because p=none is a monitoring policy with no action taken on email flows, the pct tag is superfluous and should not be used with p=none.
Deliberate DMARC Policy Progression
The process of advancing a DMARC policy is a gradual one. Once you have your domains and email sources DMARC compliant, you can begin the process of advancing your policy from p=none to p=quarantine, then p=reject. You can also make good use of the optional percentage (pct) tag, affording you with finer control of your DMARC rollout.
After you have your domains and sources DMARC compliant, we recommend a risk-averse policy progression that looks like this:

When you advance your policies and increase pct tags, you want to pay close attention to your email flows to ensure that you have achieved and maintained a high rate of DMARC compliance. Generally speaking, a DMARC compliance rate above 98% per-domain is recommended.
To check the DMARC compliance rate of a particular domain, we recommend using the Detail Viewer and filtering for the domain(s) in question. As a reminder, DMARC compliance is achieved by configuring either SPF or DKIM to pass and align. The individual SPF-alignment or DKIM-alignment scores are not as important as the overall DMARC compliance rate.
The following is an example of a DMARC p=quarantine policy at 25%, where 25% of failing email will be moved to spam and the remaining 75% will be at p=none:

And here's an example of a DMARC p=reject policy at 100%; the receiving server will reject all email that fails DMARC authentication:

What to Expect with a p=quarantine DMARC Policy
At p=quarantine enforcement, you are instructing receivers to send emails that fail the DMARC check to the local recipient's spam folder. There are two important details to remember with this policy:
Keep in mind that while the p=quarantine policy can help you gather data points and test your DMARC deployment, a policy of p=reject at 100% is the most secure state of domain protection and will prevent unauthenticated messages from being delivered from your domain. Even when there's no DMARC in place, an email receiver will still do what it thinks is appropriate. Some fraudulent messages get rejected even without DMARC; when you deploy DMARC, you're the one in control and making that determination and not leaving the decision with the receiver.
What to Expect with a p=reject DMARC Policy
This DMARC enforcement policy instructs the receiver to permanently reject the email. In many cases, a 5XX series hard bounce message is generated and communicated to the sending server.
To keep track of rejected messages, we recommend establishing a regular cadence of checking your DMARC data to discover pattern changes. The p=reject policy is the ultimate protection from unauthenticated email, including shadow IT and malicious email, originating from your domain.
Next Step: DMARC Maintenance
Once you have achieved your DMARC policy enforcement goal of p=reject, the next step is to establish a process for long-term management for DMARC compliance and to minimize potential problems related to your DMARC policy enforcement. The Life after Reject phase of the DMARC project is focused on preparing the organization for unexpected developments as well as planned changes. Here are some things to keep an eye on with the help of our DMARC Management Platform after reaching p=reject:
Read about the Life after Reject Phase of DMARC Management
dmarcian's mission is to spread DMARC through the email ecosystem to make email and the internet safer. Advancing your DMARC policy to p=reject improves deliverability rates and stops criminals from using your domains for malicious purposes. Our progressive ramp up policy is a safe way to keep bad actors from picking up your domain.