How to Create a Client Group
dmarcian Platform
MSP/MSSP
Technical Guidance
To fulfill dmarcian's mission of spreading DMARC everywhere, we know that partnering with Managed Service Providers (MSP) is essential. In order for that partnership to be successful, dmarcian created a solution that gives MSPs the functionality, tools and education to manage their clients' DMARC projects through one application.
Our Client Groups feature allows MSPs to manage their clients in one account. A Client Group is simply a customer of an MSP. Every time a new customer's domains are added into the dmarcian application, a new Client Group should be created to house those domains. This allows the MSP to know which domains belong to a particular customer and makes the information easily visible in the application. The ability to manage all customer's DMARC projects in the dmarcian application is through Client Groups.
How to Add a Client Group
Once you are logged into the platform, click the Add Group button:


After clicking the Add Group button, you will be prompted to name the Client Group. Typically, this will be the name of the company/client in which you provide service. Name the group then click Create: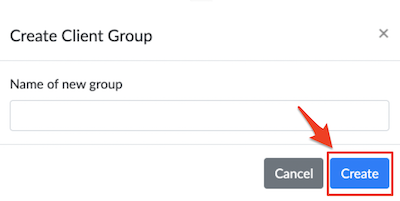 Now that you have created a new Client Group you will be able to add the domains associated with that company.
To add domains, you click the Add Domains button:
Then select the Client Group the domains belong to. You can add one domain or multiple domains separating each with a comma or space.
Click the Add Domains button and you're done!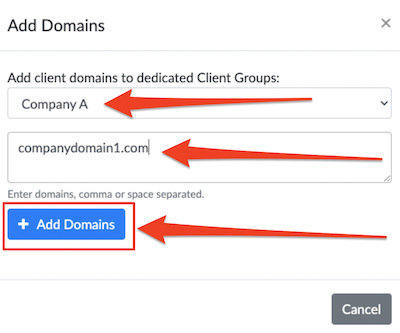 Let us know if you have any questions about how to add a Client Group.