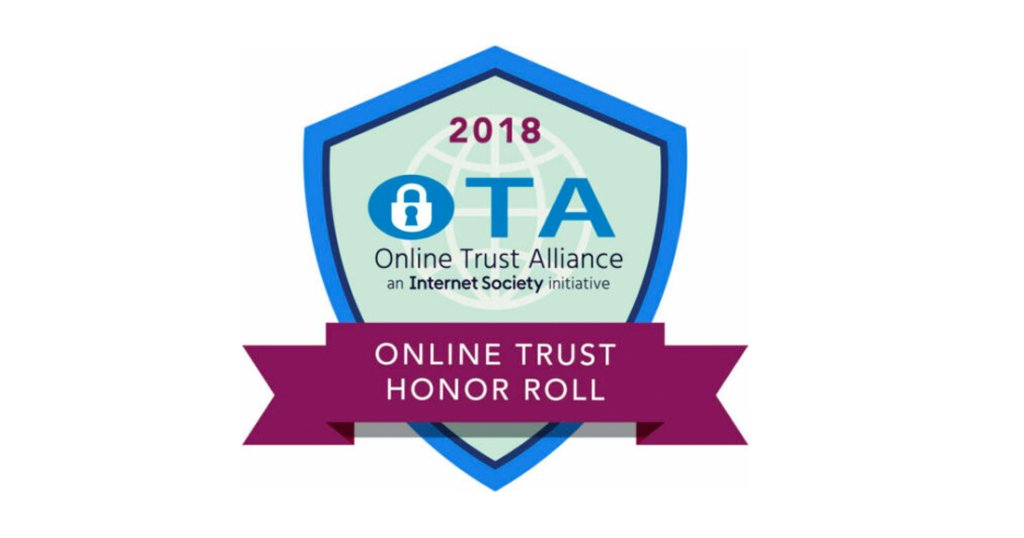 dmarcian Named to Internet Society's Online Trust Alliance Honor Roll
Ecosystem News
Inside dmarcian
Press Releases
dmarcian has been named to the Internet Society's latest Online Trust Alliance (OTA) Audit and Honor Roll. The Audit and Honor Roll is the de facto standard for recognizing website excellence in consumer protection, security, and responsible privacy practices for the world's top companies.
"dmarcian and the Online Trust Alliance share a vision for a safer Internet. The OTA has long supplied much needed advocacy and guidance for organizations looking to improve their online presence across many communities and technology areas. dmarcian's inclusion in OTA's Honor Roll reflects our common commitment to making the Internet a better place."


– Tim Draegen, founder dmarcian
As a data processor, dmarcian is committed to the privacy and security of its customers' personal information. dmarcian provides regionally isolated versions of its platform, to ensure that customer data remains within the appropriate sovereign boundaries, further ensuring compliance with data privacy regulations like GDPR and APPI. In addition, two factor authentication has recently been added as a security measure for our customers.
As the only comprehensive, independent online trust benchmark study, the OTA Online Trust Audit evaluates websites in three main categories: domain, brand and consumer protection; site, server and infrastructure security; and privacy, transparency and disclosures. Based on a composite weighted analysis, sites that scored 80 percent or better overall, without failing in any one category, received the honor roll designation.
In this age where many companies are accused of putting profits ahead of customers, the websites that made the Honor Roll should be commended for their commitment to online trust. This designation shows that you can be one of the world's most successful businesses without sacrificing consumer privacy, protection, and security.

Jeff Wilbur, Online Trust Alliance Technical Director
OTA audited more than 1,200 of the top consumer-facing websites spanning banking, consumer services, U.S. government, healthcare, news and media, retail, Internet Service Providers, mobile carriers, email providers, and web hosters. It found that 70 percent of analyzed websites qualified for the honor roll. The Federal government category surged to the front with 91 percent of sites placing on the honor roll. Healthcare, a new sector this year that includes pharmacies, testing labs, insurance companies, and hospital chains, had the lowest overall honor roll placement at 57 percent.
About dmarcian
Founded by the co-author of the DMARC specification, dmarcian has been providing products and expert services that help domain owners secure their digital assets, since 2012. Our SaaS reporting application alleviates pain points associated with processing complex DMARC reports and aids organizations in identifying steps necessary to reach their DMARC goals. The result is a safer email ecosystem for all.
About OTA
The Internet Society's Online Trust Alliance (OTA) identifies and promotes security and privacy best practices that build consumer confidence in the Internet. Leading public and private organizations, vendors, researchers, and policymakers contribute to and follow OTA's guidance to help make online transactions safer and better protect users' data. The Internet Society is a global nonprofit dedicated to ensuring an open, globally connected, trustworthy, and secure Internet for everyone.
---
Want to continue the conversation? Head over to the dmarcian Forum