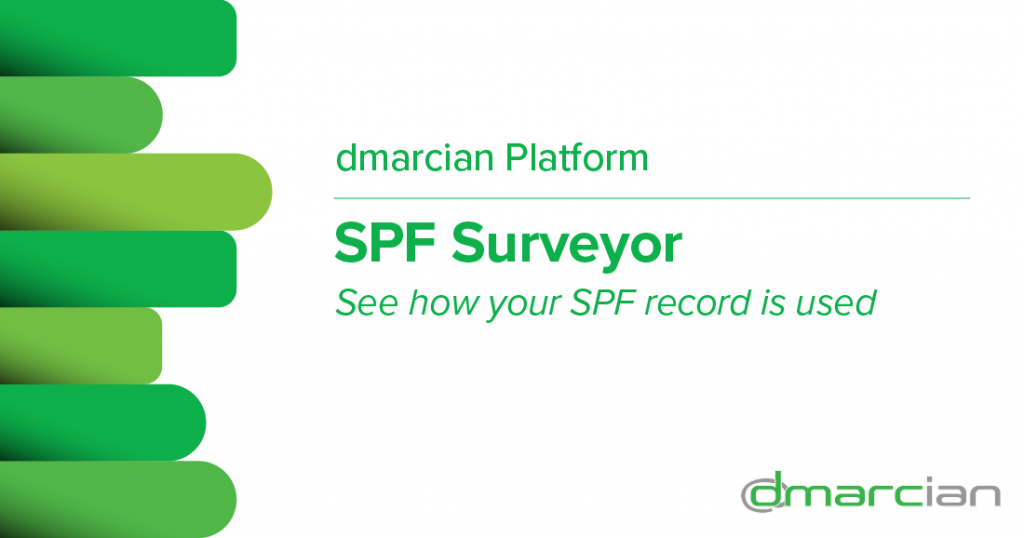 SPF Surveyor: See your SPF Record Activity
dmarcian Platform
The SPF Surveyor is a diagnostic tool that presents a graphical view of SPF records for a specific domain.
Using the SPF Surveyor allows you to do the following:
Find out if your SPF record has been published correctly
Identify which servers are authorized to send on behalf of the domain
See how much traffic is coming from your domain's SPF entries
Prevent SPF record formatting mistakes, which can cause email deliverability issues
Discover any SPF record discrepancies
Determine if your senders are sending SPF-authenticated email correctly
To access the SPF Surveyor via your account in our DMARC Management Platform, follow these steps:
Login and navigate to the Domain Overview page
Click on the SPF cell for a domain that has volume
Click Record Details
In the Record Analysis section, enable TMI
The reloaded view, below, of the SPF record details integrates DMARC data to show you which of your SPF record entries are in active use for your domain and in what way.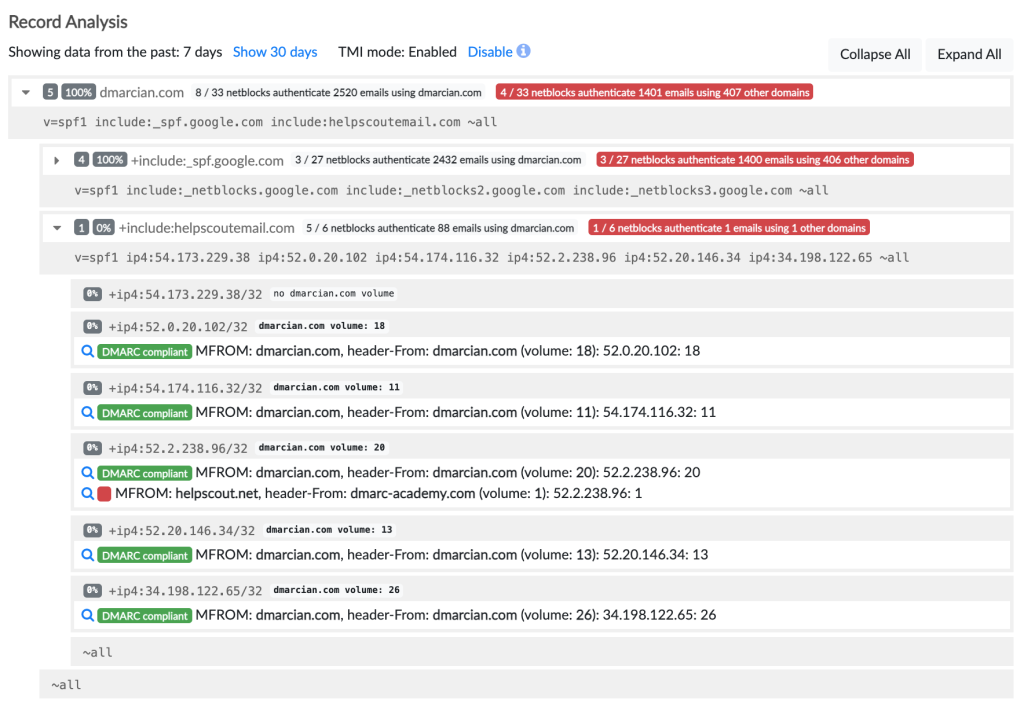 This view can help you figure out which entries are in use and which ones are no longer needed. The more unused lookups and unnecessary top-level includes in an SPF record, the bigger an attack surface you could have, so it's critical to keep your SPF records decluttered. The SPF Surveyor data can also help you keep your SPF records tidy to stay beneath the 10 DNS lookup limit.
This feature only provides reliable feedback on domains for which you have received DMARC data in the past seven days, and in some cases, a seven-day period may not be sufficient to suggest that a particular IP range/include/etc. can be safely removed. If not entirely certain, check back on it at a later time to verify the lack of traffic.
Don't have an account with us just yet? No problem. You can take advantage of our SPF Surveyor as part of the suite of resources we provide at no cost or commitment for people deploying DMARC.
Let us know if you have any questions about your SPF records or visit our DMARC Forum for guidance.