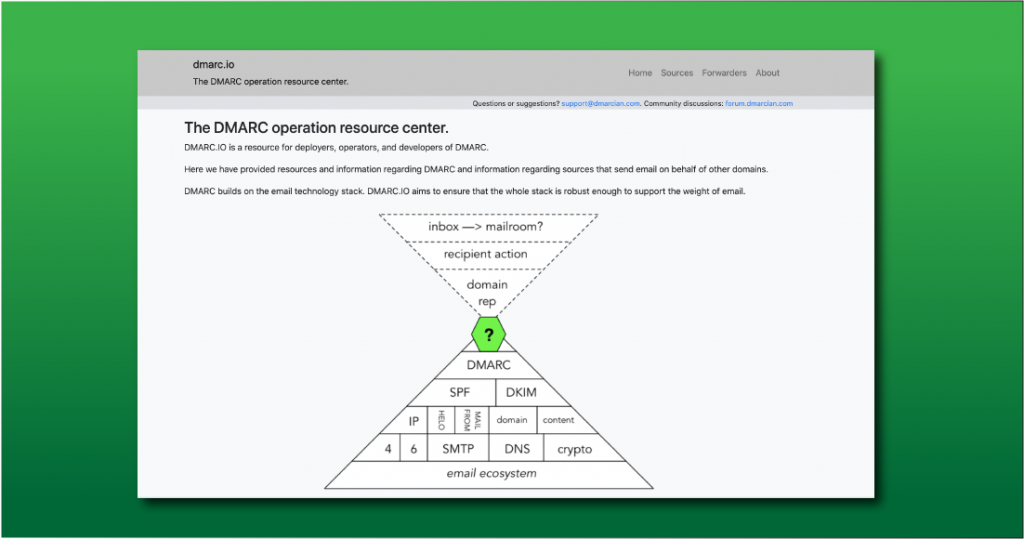 What is DMARC.IO?
Deployment
dmarcian Platform
Ecosystem News
Inside dmarcian
Technical Guidance
As presented in the post, The Importance of Sources in DMARC, source information is displayed in several places. Most are within dmarcian's application itself, but there's one external repository – DMARC.IO
The purpose of this resource is to help operators, developers, deployers – essentially anybody that deals with DMARC in one way or another – by providing information that is classified into four categories:
Email sources

– infrastructures that send email on behalf of other domains

Email forwarders

– services that impact email authentication and DMARC

DMARC data providers

– companies that generate aggregate (XML) and individual reports (AFRF)

Technology suppliers

– companies that build and ship support for DMARC
The most important category to domain owners during the course of DMARC deployment is "Email Sources." When a new source of email is found and deployers are wondering about its capabilities, dmarc.io steps in to provide actual (and actionable) information on whether a given source is DMARC-capable or not.
If you're wondering how all of this runs, how sources are created and updated, and your role in the process, you can check out our article.
---
Want to continue the conversation? Head over to the dmarcian Forum